Neyland Stadium Seating Chart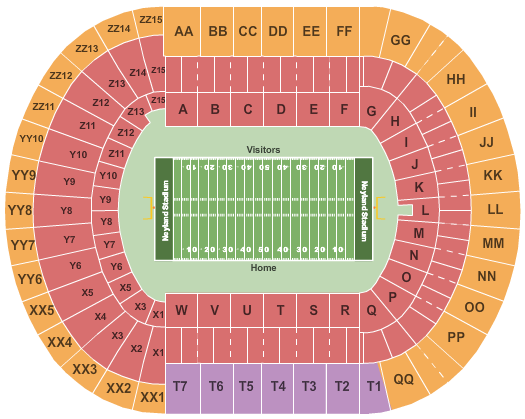 NOTE: Seating layouts may change depending on the type of event. Please check the individual seating chart when selecting your tickets.
The vast majority of seats at the stadium are bleacher seating. Seats with chairbacks can be found in the Tennessee Terrace(sections T1-T7), other than at the East and West Club sections. These chairbacks seats usually have the best seats and full services in the venue but fans will have to pay for its premium elements.
The Tennessee Volunteers have a huge student section, including sections D-K. If you are bringing kids to the game, it is best to stay clear of sections adjacent to these as well. Student tickets are only available for UT students. A valid ID will be required at security checkpoints.
If you are a visiting fan, take note that the Neyland Stadium scatters the visiting team's fan sections throughout the venue. Sections A-B, GG-OO, and Z13-Z15 are the designated visiting team sections. With all these sections, please keep in mind that they are divided in half for home and visiting fans.
Tip: For the best experience of the game, choose seats in Section 8!
Reserve your seat today by ordering your tickets. Head over to the Upcoming Events page to get started.
For information on the ticket & refund policy please view the Neyland Stadium ticket information page.
For all upcoming events at the Neyland Stadium at University of Tennessee please check out the Neyland Stadium events schedule.